Woah it's been a long time since I last blogged. Busy times. So here you go with a casual Firefox tip:
One of my favorite "hidden" features in Firefox are "smart keywords". Essentially, you write a keyword + a phrase into the URL bar, and it'll issue a search on the site corresponding to this keyword.
For example, I enter "wp elephants" and it takes me to the Wikipedia page on Elephants, rather than searching Google for the phrase. Neat!
There is a great Firefox Support article on how to add you own keywords. Essentially you right-click on a search box on your favorite website and click "Add a keyword for this search":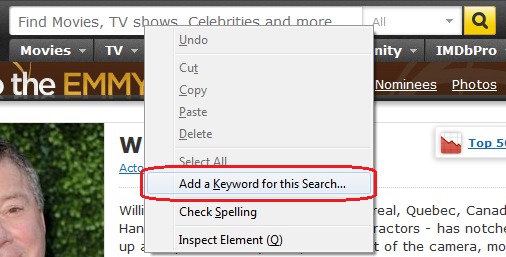 Here are the keywords I have added (I linked them to the search they represent, respectively):
My attentive readers may have noticed that Firefox will just take the search term you entered and put it into the URL in place of the placeholder "%s". This way if you can't find a search box, you can still add a keyword search by bookmarking a URL, putting the placeholder "%s" in an appropriate spot, and assigning a keyword.
That's what I did with UPS, where I couldn't find a working search form on the website. So I snagged the URL Google uses when it does UPS tracking and manually assigned it a keyword.
Do you use any search keywords you'd like to share? Let me know in the comments.
Happy keyword hacking!
---
I'm blogging about once a week in 2013, on various topics. This is my fourteenth post of the year.