Yay, I am out and about for the Mozilla Summit 2008 in the beautiful Whistler, British Columbia, Canada.
It's going to be an exciting week with a lot of people I know and haven't seen in a long time, and there will be many new people to meet as well. I am looking forward to it!
Whistler itself is a breathtaking place, they say, so I am particularly thrilled that such a great place was picked for the event. I know at least one of my friends is jealous because he'd love to go mountain-biking there!
If you want to see what's going on at the Mozilla Summit, hop on over to summit.mozilla.org, a new mash-up site showing tons of media related to the summit. Soon it'll look much fuller than this: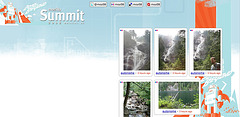 I'll write again when I'm there :)