Today's xkcd comic boils down the Digital Restrictions Management dilemma to its core: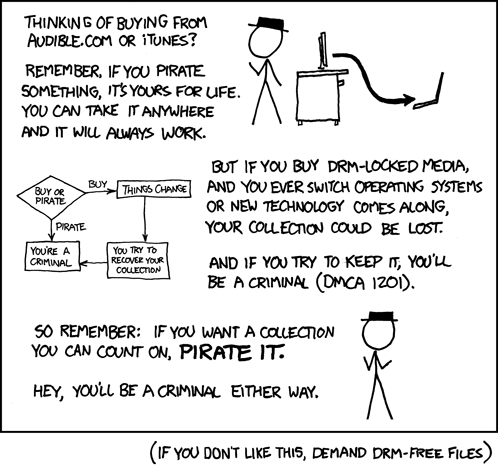 The latest Wal-Mart example--switching off their DRM servers (in spite of their later decision not to do it after all)--has shown that companies are not willing to stand by their self-imposed duties of providing a DRM framework for many decades to come. Instead, they are taking away the technical possibility to play your files at their sole discretion, leaving you as a customer with no choice other than throw away your media collection--or violate the law.
This is why DRM is so bad: While it is understandable that companies want to protect their income sources, by demanding payment for the media they produced, DRM is making promises the companies do not want to hold, or in some cases (read: bankrupcy) can't hold. This is why I prefer, at least at the moment, Amazon MP3 over the DRMed part of iTunes any day of the week.
And while Wal-Mart does not exactly have a great reputation as a whole, there's one thing they've thoroughly understood: The concept of capitalism. So it comes to no surprise that they (along with Amazon, for example) exert pressure on the music industry to be able to sell DRM-free music. The market demands DRM-free digital media that can be owned like a record or a CD and slowly, very slowly, content providers are forced to acknowledge that.
I can't help but wonder, though, is this development going to include digital video as well, any time?