The German Federal Archives (Bundesarchiv) are donating about 100,000 pictures to the Wikimedia Commons, all under a Creative Commons 3.0 by-sa (Germany) license. From the wiki page:
Starting on Thursday Dec 4, 2008, Wikimedia Commons will witness a massive upload of new images. We are anticipating about 100,000 files from a donation from the German Federal Archive. These images are mostly related to the history of Germany (including the German Democratic Republic) and are part of a cooperation between Wikimedia Germany and the Federal Archive.
(...)
To our knowledge the donation of 100,000 images is single largest one to Wikimedia Commons so far and we are very hopeful that this is only the start of a long lasting relationship that might serve as an example to other archives and image databases.
As noted elsewhere, in Germany this almost counts as the "hell freezing over": When it comes to availability of historic documents created by the government, Germany has so far had a lot to be desired.
Among the photos uploaded so far by the import script are already some nice little gems of German history, for example: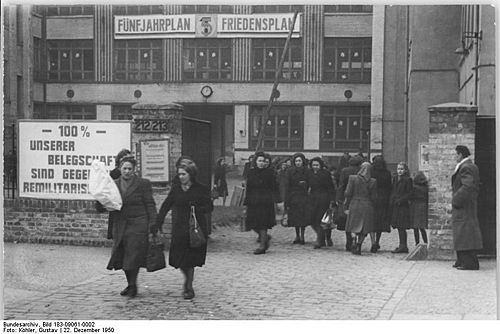 "Feierabend", or "calling it a day" in the GDR. The slogan at the gate reads: "100% of our staff oppose re-militarization" (one and a half years later the East German government proclaimed the need for a new national army and founded it another four years later, in 1956) and on the factory wall: "Fünfjahrplan -- Friedensplan", or "Five-Year Plan -- Peace Plan".
How about this one: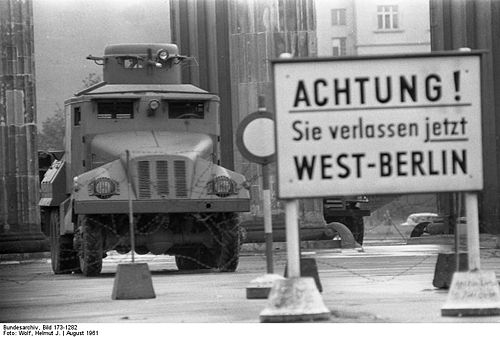 Water cannon at the border between east and west berlin, right at the Brandenburg Gate (note its pillars in the background), only a stone's throw away from the modern-day German national parliament building. The sign reads: "Warning! You are now leaving West Berlin!" -- a similar sign can still be seen at the historic "Checkpoint Charlie".