When I recently watched a slideshow on flickr, I noticed this in the slideshow settings: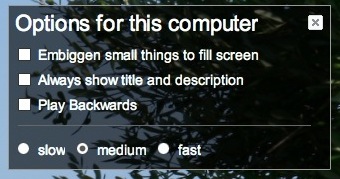 It seems, flickr developers watch the Simpsons too. The word embiggen, along with cromulent, was introduced (read: made up) in the episode "Lisa the Iconoclast" and has since been widely used in popular culture. So widely even, that at least cromulent made it into Webster's New Millennium Dictionary of English as a slang term.
Hm. Flickr is re-gaining some sympathy here (for this and other reasons I may soon blog about).