Let me tell you a little story I learned about from a tour guide when I went to Munich on vacation in August.
This is the Sternecker Brewery (or brew pub, rather) in downtown Munich the way it looked like in 1919: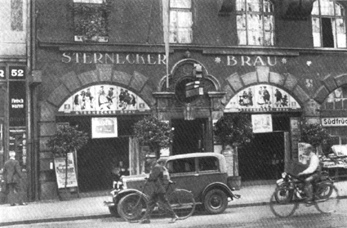 Every week, a tiny little political party of the Weimar Republic met here to complain about life in general and in particular, and as a rule of thumb ended up every time blaming it on "the jews". Now a young corporal in the German army was sent there to spy on the group and find out if they are any danger. Instead, he liked their ideas and ended up joining the party. <!--more--> The corporal's name was Adolf Hitler and the small party was the German Workers' Party (DAP) which eventually became the Nazi party NSDAP. (They faked Hitler's member number as 555 while in fact he was only the 55th member.)
In the house where the DAP met when Hitler joined it, the Nazis created a museum to remember the "founding fathers" of the Nazi movement (faking Hitler's member number yet again: This time as 7, to give the illusion of him being one of the party founders).

Long story short: When the allies threw bombs on Munich, the building was destroyed, and after the war the inner city of Munich was rebuilt so it looked almost the same it did before (you know, us Germans have kept detailed plans of buildings since... forever ;) ).
You may wonder, what's located in this buildling nowadays? Another brewery? No (though that's always a good guess for Munich, I give you that). But see for yourself:

Yup, it's the local Apple store. If they know what historic site they are located at? I am not sure.