Today I looked at this blog's usage statistics and as it turns out, a whopping 54 percent of my visitors use Firefox, followed by Internet Explorer, then Safari, Opera, Chrome.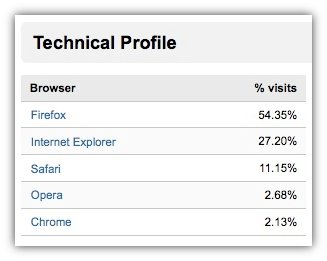 It's interesting to see how much difference the "clientele" of a page makes for its statistics. The overall market share of Firefox has topped 20% a few months ago, but since this blog has a lot of tech content, a higher number of Firefox users is probably not surprising.
By the way, almost 80% of my Firefox visitors surf with Firefox 3.0.5, followed by only 5% of 2.0.0.20 users and a long tail of various other, outdated, browser versions.