Apparently, you can (legally) buy cans of Uranium Ore on Amazon.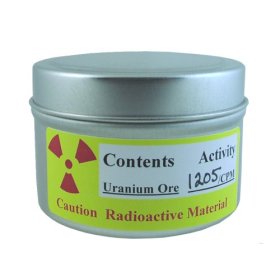 Still looking for a Christmas Present?
Is it just me, or is that really a little strange to buy something like this off the internet? But then again, the same seller also offers Rosswell soil samples, so what can you expect.
One of the customer reviews with two out of five stars is really funny:
I bought a can of this about 4.5 billion years ago, give or take a few million years, but when I went to use it today I noticed only half of it was still in the can. I swear I put the lid on tight. I'd give it more stars if it came in a better package.
Oh, sweet science! :)