It seems to me like some people have a little too much time at their hands: I recently notice a bunch of hand-crafted spam coming in to my blog, mainly as comments to the famous (infamous?) cake article.
The comments look something like this: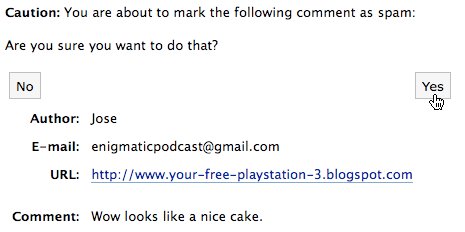 Some hand-crafted wordpress spam, notice how the comment makes sense but the supplied URL is quite apparently promoting spam content.
Interestingly, most of these comments actually link to pages that promote some sort of shady pyramid scheme. Looks like these people desperately surf the web searching for well-visited blog posts and drop spam in there -- by hand.
Yet, even if they manage to get through comment moderation, they are not likely to squeeze any "search engine juice" out of it, since Wordpress marks commenters' homepage links as nofollow by default.
And though I would like to tell them they can save their keystrokes and that they are wasting their time (and, more importantly, mine too), I can probably drop that, since chances are, none of these people will ever actually read the blogs they are spamming...