Is it time to leave? Again? Yup. The final days of my stay in Pittsburgh have come: My master's thesis is more or less complete (by the way, it has the nice name "Transaction Management Challenges for Cross-Organizational, Workflow-Based SOA Applications" and spans 104 pages total), so it is time for me to take it back to Germany and finally wrap up that "Diplom" of mine.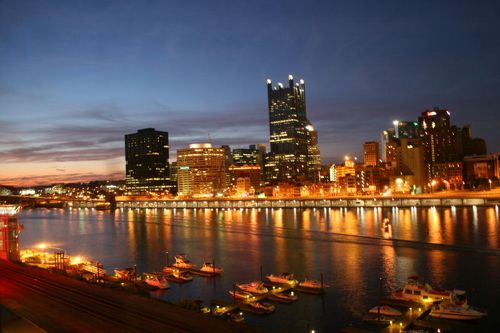 It was a fun time in the "Steel City", I've learned a lot both professionally as well as personally and I have met great people who I will really miss. Thanks for making my time in Pittsburgh great, you know who you are!
But I am not quite flying home yet: Before diving back into the "frozen tundra" of Germany, I shall visit warmer parts of this country. I promise I'll feel a little bad for you, snowed-in readers, while I sit by the pool sipping margaritas!
(Pittsburgh skyline photo CC by-sa licensed by Ronald C. Yochum, Jr. on Wikimedia Commons.)