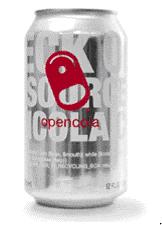 WikiHow has a howto for making "OpenCola", a soft drink with a GNU GPL licensed recipe.
The main ingredient is -- how surprising -- sugar:
When you make cola, you basically end up filling a glass with sugar and then adding just enough water and ancillary ingredients to get it to dissolve.
writes Cory Doctorow on BB.
I have to admit this doesn't really make me want to try it out -- even though I realize that there's probably just as much sugar in commercial pop.
Sometimes I am plain impressed with how we can seriously drink that stuff.