About a week ago, Skype came up with its beta version 2.5 for Mac, so today I gave it a shot. Ambitiously, I dared to call into a meeting, where I was expected to enter the access code using my phone's number pad (DTMF dialing is what they call it, I think).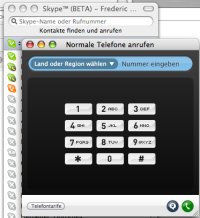 Of course, it did not work: The numbers I dialed were not understood and after a few seconds, the computer on the other side cut off my connection.
Sadly, this funcionality is meanwhile needed for a vast majority of automatic caller systems, for banks, insurances, other businesses, even the government. And, the respective Skype bug was therefore already found a long time ago, one of the first forum topics that I could find on the issue is dated in April 2005.
By the way, on Windows this feature allegedly works without problems, so this issue is not related to the "Skype Out provider issue" they once had.
Seeing that long-known problems like these are simply ignored does not make me feel excited about their new features like SMS, the webcam stuff etc. anymore.
Instead, this just makes me wish they would spend a little more time fixing important bugs every once in a while.