Nachdem die Discovery zwischenzeitlich heile wieder auf der Erde angekommen ist, kann man sich um so mehr über die Fotos freuen, die von der Mission veröffentlicht wurden und noch werden.
Besonders nett finde ich das Selbstportrait des Astronauten, der die Außenhülle des Spaceshuttles repariert hat. In der Spiegelung des Visiers (übrigens: verspiegelt mit echtem Gold :) weil ungefilterte Sonnenstrahlen ziemlich ungesund sein können) sieht man viele interessante Details.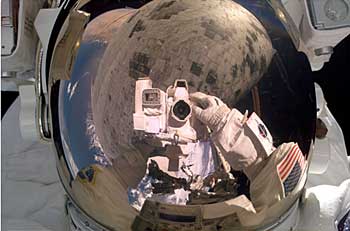 Das Bild gibt es natürlich auch in Originalgröße (jaaa, Details) auf der Nasa-Webseite.
(via BoingBoing)
P.S.: Erwähnte ich, dass das NASA "Image of the Day" dringend einen RSS-Feed braucht?