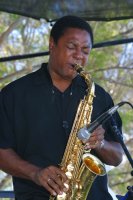 ... oder: Wie geil ein stinknormales Yamaha-Altsax doch klingen kann, wenn es der Richtige spielt ;)
War gestern auf einem Konzert von Vincent Herring, momentan wohl einem der besten (und schnellsten ;) ) Jazz-Altsaxophonisten der Welt. Wer sich noch nicht selbst davon überzeugen konnte, kann sich ja mal von der Biographie beeindrucken lassen:
Vincent has worked with Nat Adderley, Art Blakey and The Jazz Messengers, The Horace Silver Quintet, Jack DeJohnette's Special Edition, Larry Coryell, Cedar Walton, Freddie Hubbard, Dizzy Gillespie, The Mingus Big Band, Nancy Wilson, The Roy Hargrove Big Band...
Ein paar nette Hörbeispiele gibts zum Beispiel bei
Amazon
.
Irgendwie bin ich ja froh, dass der Junge keine Trompete spielt, sonst wär ich wohl mit offenem Mund dort in der ersten Reihe gesessen. (Außerdem wäre ich sonst wohl auch noch schwerhöriger, als ich es heute ohnehin schon bin - dass ein Alto so laut sein kann?).
Durch meinen Chef-Platz bekam ich sogar noch die Ehre, dass er mir seine Flasche Cola geschenkt hat, weil er Cola Light bestellt hat und die normale nicht haben wollte. Ist ja auch schlecht fürs Instrument und so blabla.... - jedenfalls: Danke, Vince! Für die Musik und die Cola ;)